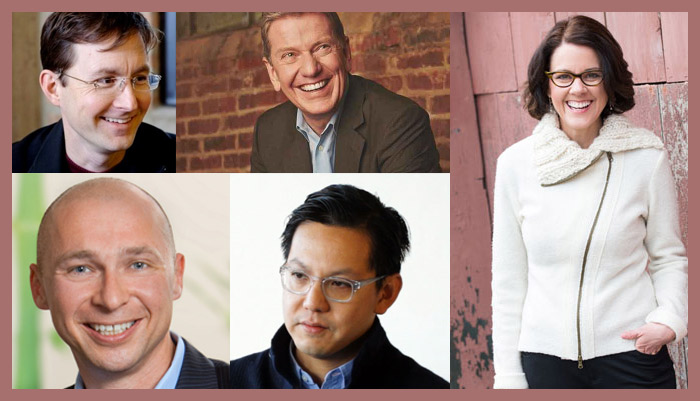 6 Digital Marketing Experts We Trust, and Admire
We love these guys, partly because they're really good at what they do, partly because they're great self-promoters but mostly because they have perspectives that are different. You're guaranteed NOT to read the typical rehashed, keyword dripping, blog fare that seems obligatory if you're in marketing of any kind these days. Some skew a bit more design heavy than others, but each one has great lessons to impart.
Tim Ash @tim_ash
If you've ever seen Mr. Ash present at a live event, you'll immediately understand why he's on this list. As dynamic as he is knowledgable, he is a leading authority on the topic of conversion rate optimization (CRO). He's not only worked with Google, Intuit, Yahoo! and other online powerhouses, he's also a best selling author, and the founder of series of conferences all related to, you guessed it, conversion.
Khoi Vinh
Former design director for the NY Times online, Khoi now works for Adobe in their ever-growing NY office on 15th St. While I gave him his first job in NYC, he taught me a lot about design, and even more about what it means to be a designer. He also runs and maintains the oldest blog that we've been reading regularly. Since 2000, Khoi has voiced his ideas, opinions and philosophy on mostly design related topics, but also film, Apple and general technology at subtraction.com.
Ann Handley
What's not to like about Ann? How many writers can make marketing interesting, compelling even? She's also an extraordinarily successful entrepreneur, creating MarketingProfs.com through a single minded focus of writing things people wanted to read. She's got a best-selling book on writing AND she works from a tiny house!! Seriously though, if you've ever been a MarketingProfs subscriber, you'd know how her advice has helped tens of thousands of digital marketers find their voice in this once new realm.
Andy Crestodina
Another digital marketing vet and Chicago native, Andy has been an evangelist for the notion of content marketing, even before it was a thing. His book, Content Chemistry has also informed many on the right way to create content that generates real customers. Andy has written a series of articles that detail what to put on your website and what to remove (like this one), all of which we follow religiously, because they work. You can find more about him at his company's website, Orbit Studios.
Michael Hyatt
So, what does a grandfather of 8 and the former CEO of the world's largest faith-based publisher have to do with digital marketing? A lot. Trust us. Michael Hyatt has created a multi-million dollar consulting business online by creating content that people love and are willing to pay for. Hyatt's posts on personal development, productivity and leadership are among the most shared posts in their categories. My favorite quote of his, "It's impossible to make progress on projects that matter when our calendars are full of tasks that don't." Well said Mr. Hyatt.
Brian Clark
Yet another one of the original content marketing stars, Brian has been publishing online since 1998. His blog, copyblogger has literally influenced millions of online marketers. Rainmaker Digital now employs over 50 people operating copyblogger and Clark's most recent and certainly most ambitious project, the Rainmaker Platform. It bills itself as "The Complete Solution for Digital Marketing and Sales," pitting it head to head with industry giants like HubSpot. LeanLabs has a nice comparison between the 2 platforms here. And having followed Brian's work for at least 10 years, there's no way we'd bet against him.