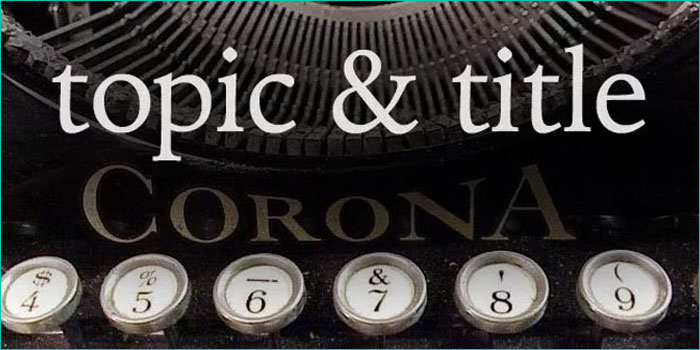 The Ultimate Guide to Blog Post Best Practices – Part 1
Blog posts have certainly changed over the years and as a marketing company or any sales focused company knowing how to post properly can help change you and your business.
At one time, blogs were used to describe personal accounts of people's lives, their travels, and their pet Furby collections.
Today, blogging is the organic way to promote your business, your expertise, and online lead generation. And through this process, it helps you bring visitors to your site and turn them into customers.
This guide will take you through 5 important blogging best practices. We will focus on each one of these steps individually. We recommend following these steps in order, and we have broken them down into bite-sized pieces of information.
Here's the first step – Choosing Your Topic and Title:
Your primary goal with a blog post is to answer a question about your industry that potential customers may be asking.
You want to focus on a specific topic rather than yourself. Think about how you search for answers on the internet. Do you type in a company name to a search engine or do you type in a topic question such as, "How can I unclog my drain using a toothpick and tweezers?". Perhaps, it's the latter?
So, how do you find the right topic? Sales and marketing teams are great resources. They typically have their ear to the ground and know what the customer is thinking, what the competitors are doing, and what the industry is talking about.
Putting yourself in the mindset of the customer helps you think about their issues and challenges. Thinking about their needs rather than your services can help you find a topic that is meaningful and will attract awareness.
In the brainstorming process, ask:
What are the most frequently asked questions?
What do your customers and prospects need help with?
What do you want to tell your audience about your industry?
What are other bloggers, competitors and industry mavens talking about?
Keyword research is also a great way to narrow down a topic. Keywords are the words and phrases typed into search engines. They represent what your prospects what answers to. Again, try and put yourself in their shoes and think about the words they would use to learn more about your industry. Keyword.io and Google Keyword Planner are great ways to get keyword ideas.
For the last part of this section, picking a title is the one of the most important things to consider. It's typically the first thing people scan to see if they have interest in the content.
Start with a draft title and then hone it down to be more specific to the topic you're writing about. For example, "Learning About Video Games" is a broad title that can lead to multiple blog posts. But "Learning About Nintendo Retro Video Games" is much more specific.
Next, include a long-tail keyword in your title. This is a specific phrase that people are searching for and should be based on the topic you have chosen. If you're writing about how to make chocolate covered ants, then your long-tail keyword would be "make chocolate covered ants".
You also want to make sure your title expresses clearly the value you are going to give them in this post. The title, "The 3 Ways to Make the Most Savory Chocolate Covered Ants" explains how much information this post will contain and why it will be valuable to the reader.
And, most importantly, keep the title to 50-60 characters. This is because Google only shows the first 50-60 characters in their search results, so you don't want to get cut off.